PIGGY EDUCATION PLACEMENT PROGRAM
We are so excited that you are thinking of adopting a pet pig! Pigs make great pets because they are smart, clean, and fun! There are so many PIGS in need of a new home and adopting one helps to provide a pet pig in need a new path to a wonderful life – so THANK YOU for considering ADOPTION!
EPIC Outreach is committed to helping both pet pigs and people build a long-lasting happy and healthy relationship for the lifetime of the pig. EPIC serves to be a resource of information to help pet pig parents keep their pet pig for its lifetime.
Occasionally EPIC will have pet pigs available for adoption. Each pig available will have specific needs and personalities. EPIC works primarily with animal control and government agencies who take in potbelly pigs and/or mixes that are strays, are confiscated from cruelty/hoarding situations, or are abandoned. Often the pigs have unknown histories. Each pig available for adoption will have been vetted and evaluated for health and behavior needs. Each pig's home expectations will be shared transparently.
Before you ADOPT
Thank you for doing your research before adopting a pet pig. While pigs are clean and social, they do have emotional and physical needs to be met for a happy and healthy life. Before you ADOPT, please consider the following:
A pet pig (potbelly and/or mix) can live 10-20 years and needs to be a lifetime commitment.
Where do you live? If you live in a residential home have you checked county ordinances and your HOA. A county ordinance might allow a pet pig, but your HOA might say no.
Do you have the time? Pigs love to have their mind stimulated. Without proper mental stimulation they can be destructive. Providing a pet pig with things to do is very important.
For more information on how pigs make great pets please read this great article written by Founder Jessie Miller: PIGS MAKE GREAT PETS.
Please also read the following about the basic care of a pet pig: LEARNING TO CARE FOR YOUR PET PIG.
If you're still interested in adopting a pet pig and you think you're a great fit home for one of the available pigs listed below please email Jessie at epicanimals2015@gmail.com. EPIC Outreach's adoption process is an OPEN CONCEPT and will start with a conversation and then arrange a meet and greet with your potential new pet pig. We look forward to meeting you and talking all things PIGS!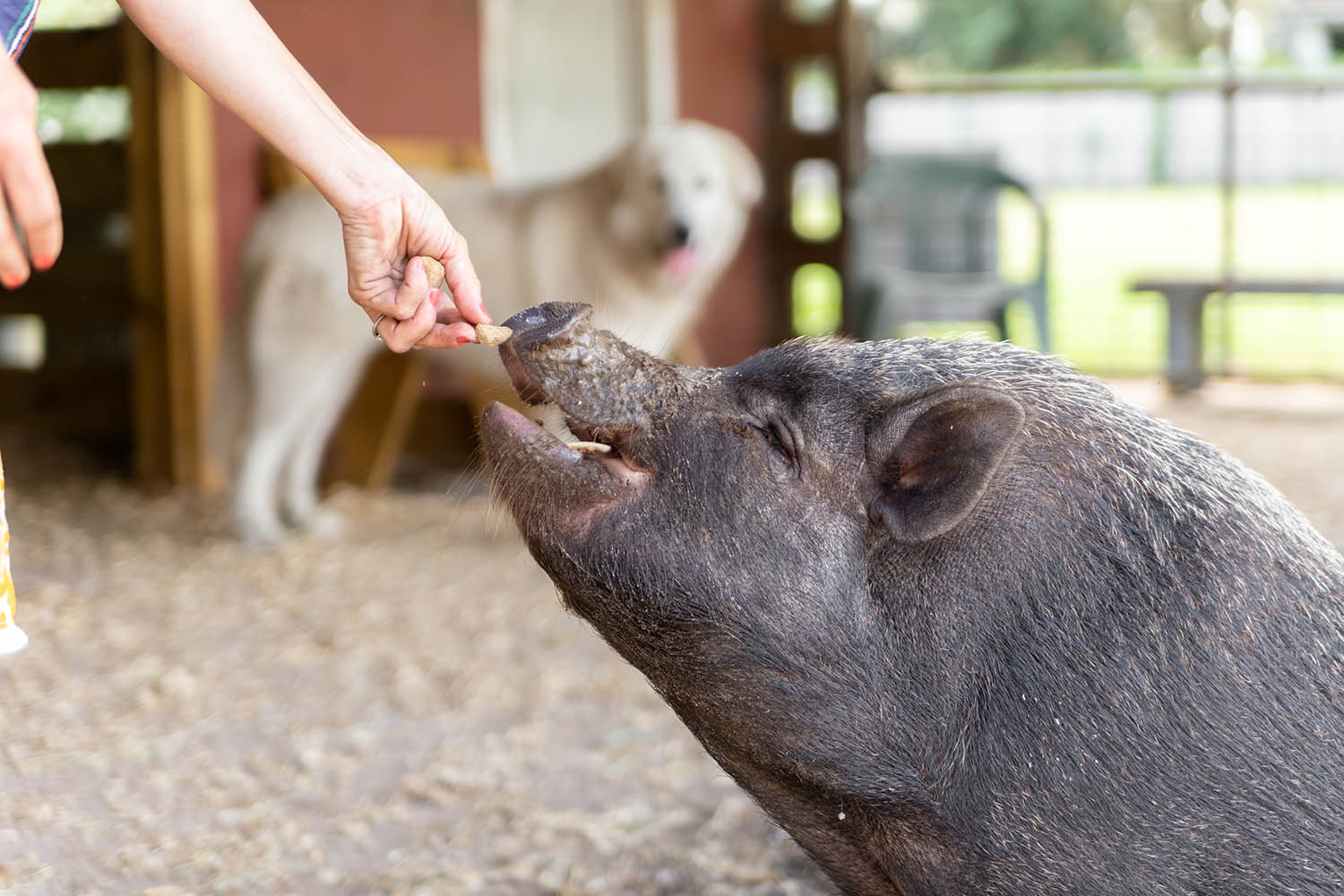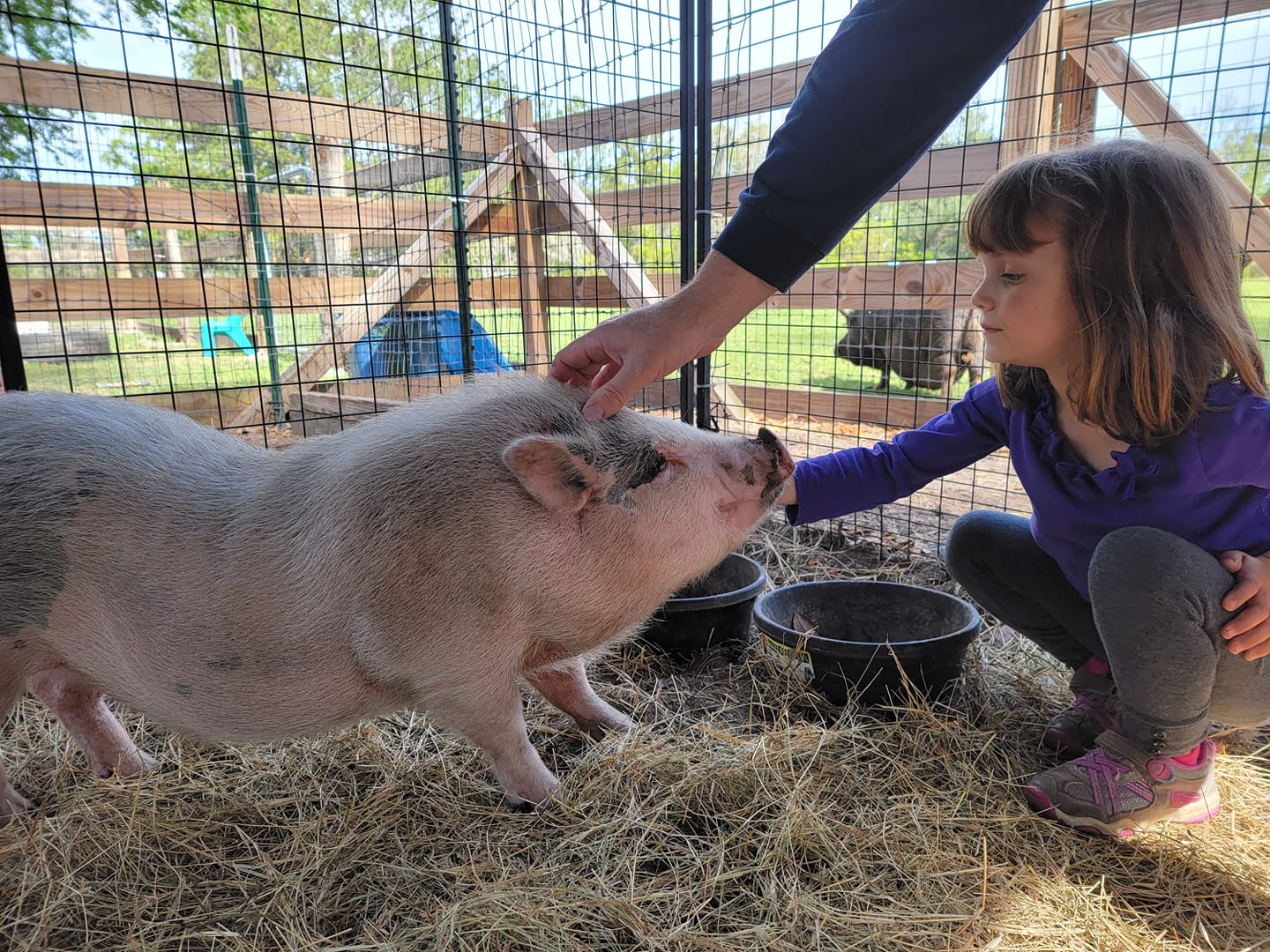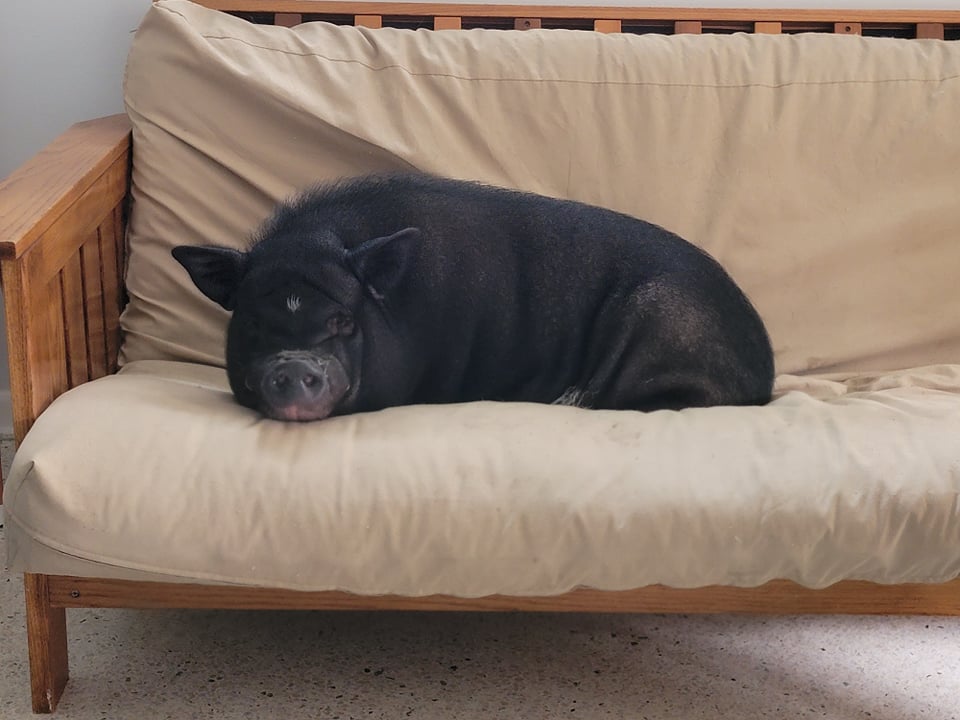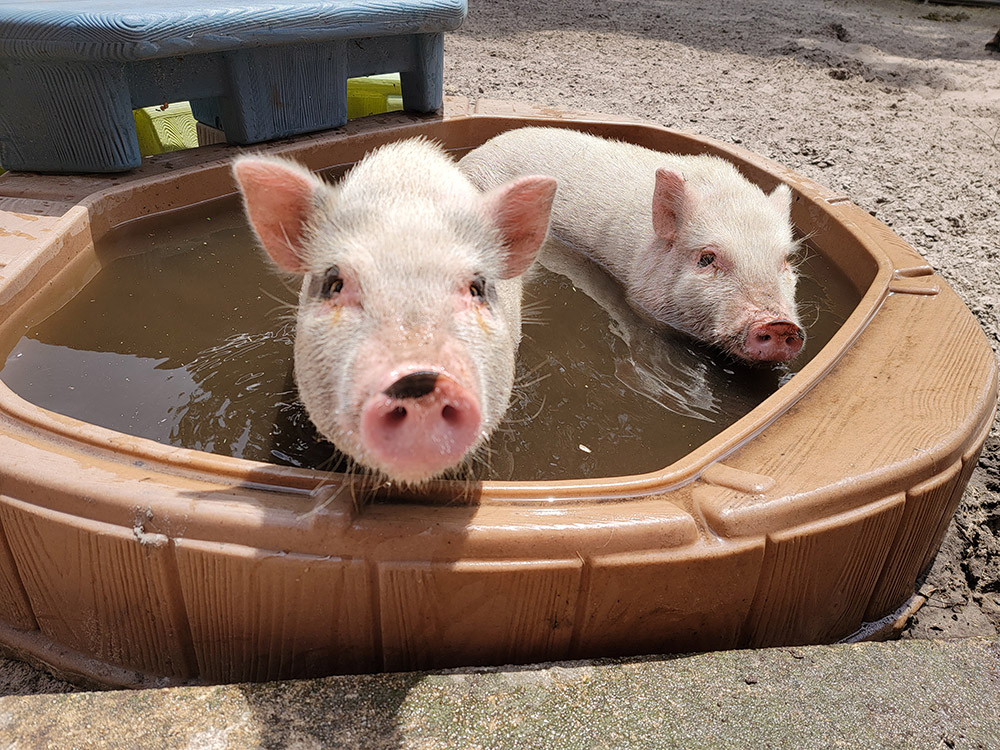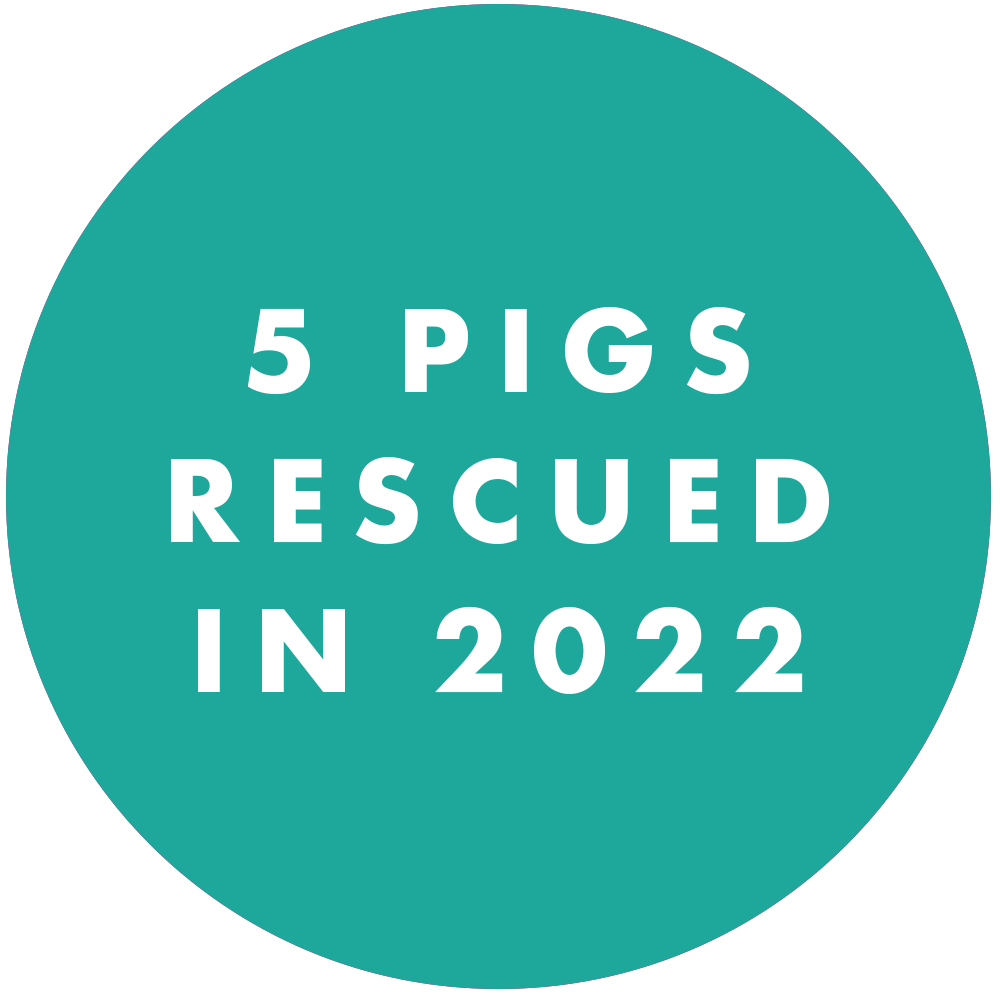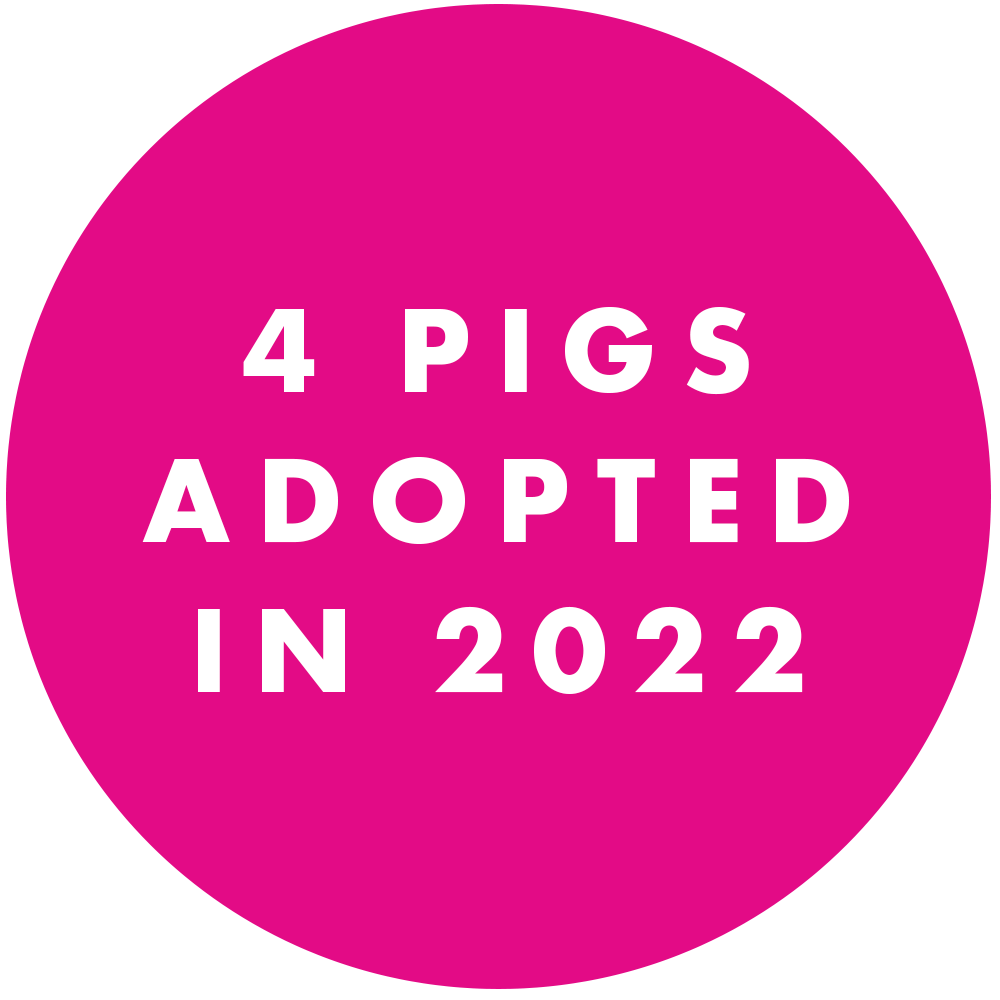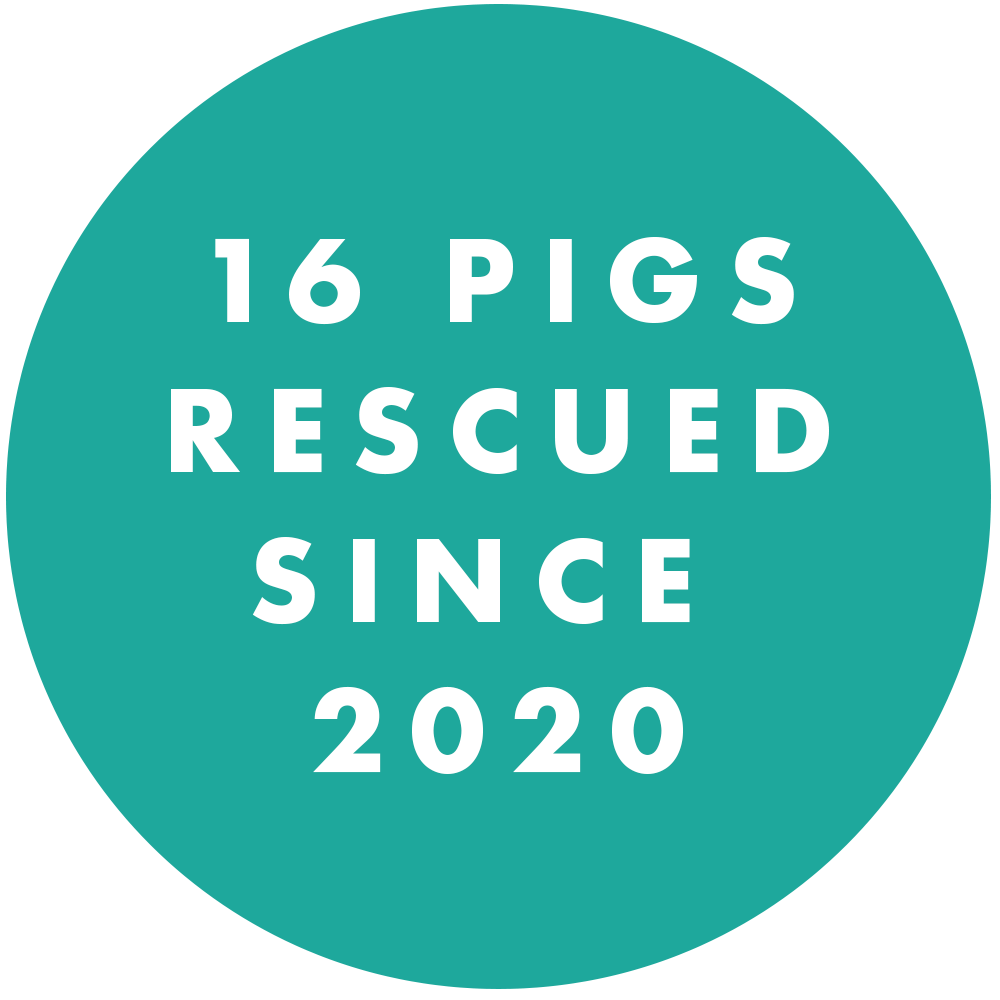 AVAILABLE PET PIGS
LEO
This sweet chunky boy was rescued by the Jacksonville Sheriff's Office. He and another pig were living with an individual in violation of a personal crime and the pigs were confiscated when the human was removed. LEO is the sweetest and smartest potbelly pig mix. He gets along with other pigs after a proper introduction. He also likes dogs, donkeys, and loves treats. LEO is accustomed to a dog kennel which makes transporting him very easy. He is learning to sit, come when called, and will be learning so much more while spending time at the fair. From March 31st to April 10th this lovebug is spending time at the CLAY COUNTY FAIR where he will be advocating for pet pig adoptions and looking for his new forever home. If you are interested in meeting and adopting LEO please message us directly or stop by the fair to say hello!
Age: Around 1-2
Sex: Neutered Male and up to date on vaccines
RAISIN
Ray-Ray or RAISIN is a domestic potbelly pig mix. He was rescued in March of 2022 by the Clay County Animal Control. He was surrendered by his caretaker after they rescued him from being attacked by a dog. He has some minor scarring from that incident, and the right side of his face has nerve damage. But this little butterball doesn't let any of that hinder his love for life. He has been checked out by a vet and is healthy, eats with enthusiasm, and loves to play with his ball. RAISIN is also crate trained and is learning to sit, come when called, and has the potential to learn so much more. As a young pig he is ready to grow with a new family as an indoor or outdoor piggy. He has been introduced to other pigs and is currently spending time with LEO at the CLAY COUNTY FAIR (see LEO's above description). RAISIN is shy around dogs and will need to be safely introduced to any future dogs in a new home. If you think RAISIN is the perfect pig for you please contact us to meet him.
Age: Under 1 year (@8-9 months)
Sex: Neutered Male and up to date on vaccines
BLAKE and BLARNEY
These two piggy's are a bonded pair and will need to be adopted together. But don't let that be a hurdle. Pigs are very social and they love to live with other pigs, so ideally you want two pigs, and what better way than two that already love each other. BLAKE and BLARNEY were stray pigs from Clay County and joined the sanctuary in March of 2021. BLAKE is super sweet and loves to get belly rubs, he will sit in the grass right next to you and crave the attention you wish to shower upon him. BLARNEY is more reserved and will allow you to touch him, but isn't as fond of the belly rubs. They both know their names and will come when called. They are learning to sit and have the potential to really blossom with one-on-one attention with their new family. They both free range all day with other potbelly type pigs, a large Yorkshire pig, horses, and dogs. They would do great on a hobby farm with other farm animals for friends. If you would like to meet BLAKE and BLARNEY and talk more about adding them to your farm family please send us a message.
Age: @2-3 years of age
Sex: Both are Neutered Males and up to date on vaccines